by chrcur15 Oct 30, 2014 0 Blog
Sweet Potatoes are a staple on many Thanksgiving tables. They are a healthy alternative to your regular potatoes and come in beautiful colors. The traditional orange sweet potato can be found in farmers markets and grocery stores everywhere. In addition to being absolutely delicious these root vegetables are very versatile in cooking. Use sweet potatoes in soups, entrees, side dishes and desserts. Now that the weather is turning cold, what better way to show off sweet potatoes than with an amazing healthy soup! If you haven't seen the recipe in September issue of Best Self Atlanta Magazine (page 18 "BestBites"), we are pleased to share it with you now.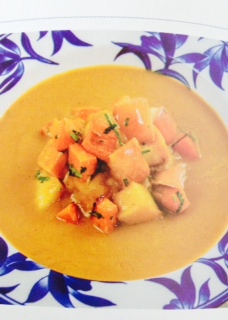 Vegan Sweet Potato Soup
1 tbsp. grape seed oil
1 small yellow onion, diced
3 tbsp. minced ginger
1 tbsp. curry powder
1 lb. sweet potato, peeled and diced
1 small apple, peeled and diced
3 sprigs of fresh thyme
5 cups vegetable stock
1/2 cup coconut milk
2 tbsp. pure maple syrup
Salt and pepper to season
Heat the grape seed oil in a pot over medium high heat.
Add the onions, ginger, curry powder, sweet potato and apple, seasoning with salt and pepper. Cook contents for five minutes, stirring continuously.
Add the thyme and vegetable stock to the pot. Bring contents to a boil, and then reduce to a simmer.
Allow everything to cook until the vegetables are tender. This will take approximately 30 minutes. Remove the thyme sprigs and use an immersion blender or food processor to puree the soup until smooth. You can reserve some of the sweet potato and apple for garnish, if you choose.
Finish the soup by stirring in the coconut milk and maple syrup. Check seasoning and add salt and pepper to taste.